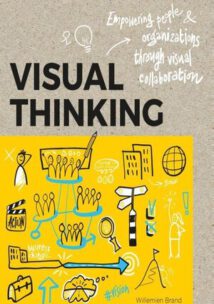 Why you should read this book ?
If we want to turn our customers into die-hard fans, it is essential to capture and understand their needs. Visualization techniques help us to explore markets and gain customer insights. They can be applied to create customer persona, to design customer journeys or even to prepare a competitive analysis.
Through basic shapes and text, we are able to create immediate and strong impact when sharing the story of our vision. What does it mean to be or to become customer-centric ? Visual thinking helps to define a clear shared purpose and to communicate our strategy as intended. It is a creative and very efficient way to boost collaboration and drive change within a team or an organization.
Want more ? A sequel to this guide entitled "Visual Doing" provides hands-on guidance and exercises in the application of visual skills. It comes with a "workbook" to practice your drawing skills. Need inspiration and examples? By the same author, "My icon library" is a lexicon of icons grouped into several categories of business themes (sales, finance, technology, etc.).
You don't need to be Picasso to get started. Everyone can draw ! And if you do have artistic talents, this is a great way to put them to work !
What is the central idea ?
Based on the knowledge that 75% of our sensory neurons are visual neurons, visual thinking and visualization skills have become increasingly important in any business environment. This book was designed to support anyone looking to develop this skillset and create a personal drawing style that can be applied in various business contexts.
It a practical guide that consists of five simple chapters, ranging from the basics of drawing to more complex story-telling techniques and how to put theory into practice in a business setting:
The importance of visual thinking
Basic drawing skills and guidelines (materials to use, basic shapes, icons, facial expressions, etc.)
Creating visual story-telling templates
Visual thinking in a business environment
Extra tips on-the-go and a brief presentation of the authors and the contributors to the book.