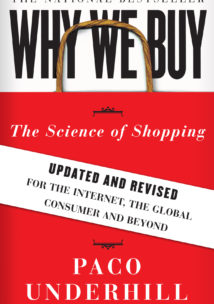 Wat is het centrale idee?
"Meer dan 60% van wat klanten kopen stond aanvankelijk niet op hun lijst." Hoe interessant en nuttig het product an sich ook is, dat alleen is veruit onvoldoende om het ook echt aan de man te brengen.
Sinds decennia onderzoekt Paco Underhill wat consumenten precies drijft tot aankoop. In zijn onderzoek observeert hij hoe klanten zich gedragen in verschillende situaties en retail omgevingen. Op basis van jarenlang verzamelde data toont hij aan dat nét iets meer aandacht hebben voor het perspectief van de klant een grote impact heeft op verkoop.
Waarom moet je het lezen?
Het boek geeft ongelooflijk veel inzichten in hoe klanten zich gedragen en bewegen in een retail omgeving, wat hen aantrekt en afschrikt, wat ze wel en niet zien of lezen en hoe dat alles hun koopappetijt beïnvloedt. Met veel praktijkvoorbeelden toont de auteur aan hoe retailers en marketeers de verkoopcijfers fors kunnen aanzwengelen.
Ben je actief als retailer, marketeer of productontwikkelaar, of bezig met het herbekijken van je distributie-, kantoor- of winkelconcept? Dan is dit boek een must. Het bied je concrete tips die uitgebreid getest werden met echte klanten.
Je zult geregeld glimlachen als je leest hoe eenvoudig het verschil tussen 'flop' en 'succes' kan zijn.