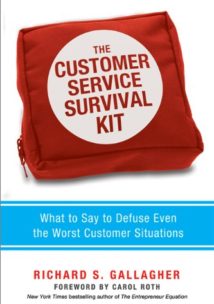 Wat is het centrale idee?
Ongeveer alles wat we doen om een ontevreden of boze klant te sussen, heeft in de praktijk het tegenovergestelde effect. Dat komt omdat onze primitieve natuur ons programmeert om ons te verdedigen of om te vluchten. Gallagher legt uit waarom veel gebruikte en goed bedoelde reacties op een klacht de toestand alleen maar erger maken en de schade voor de organisatie vergroten. De situaties die hij daarbij schetst zijn pijnlijk herkenbaar!
Met recente inzichten uit de gedragswetenschap (waar o.a. crisisadviseurs en onderhandelaars in gijzelzaken gebruik van maken), biedt Gallagher concrete technieken om een klacht positief af te sluiten zonder daarbij buitenproportionele toegevingen te doen. Centraal daarbij staat het vermogen om de klant in zijn eigenwaarde te laten, onafhankelijk van de redelijkheid van zijn ongenoegen.
Waarom moet je het lezen?
Hoewel Gallagher zich met zijn concrete en pragmatische technieken rechtstreeks richt tot front-line medewerkers en hun directe managers, is het van cruciaal belang dat leiders inzien waarom interacties met een ontevreden klant zo vaak en zo radicaal het beoogde effect missen.
Echt élke front-line medewerker zou de inhoud van dit boek moeten begrijpen en kunnen toepassen en elke teamcoach zou het continu moeten gebruiken om bij te sturen.
Leiders die erin slagen om de inzichten uit het boek te integreren in de dagelijkse praktijk, hebben een bijzonder krachtig wapen in handen om klantenverloop drastisch te beperken.