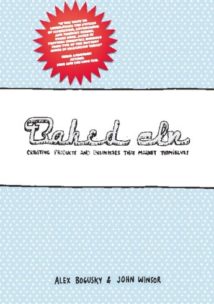 Wat is het centrale idee?
Traditioneel komen producten en diensten sequentieel – in laagjes – tot stand. We vertrekken typisch vanuit de ontwikkeling van het product/dienst. Dan komt de verpakking aan bod. Vervolgens bedenken we het distributiemodel. En als laatste komt het verkooparsenaal – de story – er bovenop. Zo schuift de hete aardappel telkens naar de volgende dienst. Volgens de auteurs van Baked In is dit een totaal voorbijgestreefd model dat tot zeer dure communicatiecampagnes leidt én innovatie in de kiem smoort.
In dit boek reiken de auteurs concrete tips aan om je te helpen bij het ontwikkelen of herontwerpen van producten en diensten die incrementele innovatie radicaal overstijgen. Het centrale idee is dat producten/diensten zichzelf verkopen als je de story er van bij de ontwikkeling "inbakt". Om fundamentele innovatie te ontwerpen moeten functionaliteit en "story" samen tot stand komen, vanuit éénzelfde visie. Hiervoor is het essentieel dat marketeers en product-/dienstontwikkelaars in cross-functionele teams samenwerken van bij de start.
Waarom moet je het lezen?
Dit boek helpt je om op een meer systematische manier sterke producten/diensten in de markt te zetten waar klanten écht enthousiast van worden.
De Amerikaanse auteurs schrijven vanuit hun expertise en jarenlange ervaring als creatieve communicatie adviseurs voor bedrijven zoals Fruit of the Loom, SAS, MINI, Diesel, Scania, Domino, Windows Phone, Turkish Airlines, etc. Het boek telt slechts 150 pagina's, leest bijzonder vlot en is doorspekt met sprekende voorbeelden. Het is gemaakt als een werkboek, het zet je aan tot actie. Bij elke Baked In tip begeleiden ze je om de vertaling te maken naar je eigen omgeving.