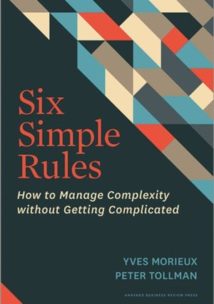 What is the central idea?
In essence, this book is about improving the performance of your employees in the most effective way.
Is your organization confronted with growing complexity? You will probably adapt the organizational structure, it's rules, procedures and scorecards. Or find ways to change the mindset of your employees.
According to the authors, both methods lead to more, not less, complexity. The solution lies in creating the right context: "Increasing the performance with the least amount of effort? Stop saying what they have to do. Create the right context for the change instead", said by Morieux and Tollman.
Why should you read it? 
If you want to change the culture of your organization of make it more efficient, this book is a must-read.
The authors analyze the consequences of frequent used methods to increase performance. You will receive simple tools to make your vision more concrete.
While reading, many recognizable situations came up. Here, you will find three examples that illustrate what this book is about.
KPI's hold back collaboration
Despite all efforts, companies all say they need more and better collaboration. The authors explain why: "If measurements are only used to reward performance, it will come at the cost of that what is not measured: collaboration."
Do you want a close collaboration? Create responsibilities that cross departments and functions. Make for example front and back office together responsible for the customer satisfaction scores.
Training alone doesn't lead to change
Very often, organizations use training as the main pillar to create the needed change. But the effect of training on behavioral change is highly overrated.
As confirm Morieux and Tollman: "Training is of no use when the participants are confronted with too many limitations."
Create space for change
Is control waste also your pet subject? That too is covered in this book. The authors see great improvement in efficiency, not only in less control waste, but also by creating more space for the change you want to realize. That's how you increase the sense of responsibility in the front office (for mistakes etc.) and create less workload and frustration in the back office.