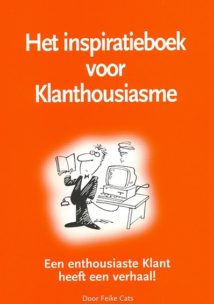 What's the big idea?
If you ask people to sum up organizations they are truly enthusiastic about, you will find they will state stories, as opposed to facts. If everything merely goes according to plan, the customer is –at best- satisfied. But that's not enough. Sometimes momentum needs to be created for an experience to stick. The trick is to understand what it takes to create such an experience. Quite often the answer lies in very small details. 
Why should you read it?
Cats draws inspiration from his personal experiences and his passion for customer experience. His book doesn't contain strategic concepts, or scientifically substantiated models, but countless concrete examples and anecdotes. This is more than a book leaders can draw examples from, it can also be seen as a manual on customer friendly service that can be passed on to their coworkers.